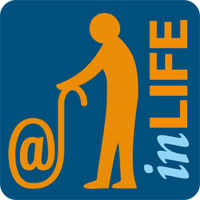 IN LIFE concept is to address the challenge of turning existing research efforts to reality for real people across Europe.
Existing flexible ICT solutions could assist elderly users with cognitive impairment in organising, carrying out and completing everyday tasks and constitute essential factors for continuing to be and feel independent. IN LIFE will offer all-around, personalised, multi-faceted existing ICT solutions and services addressing diverse daily activities (eating, physical activity, commuting, mental stimulation, communication, social interaction, etc.) to users with cognitive impairment living in their own home or in sheltered homes, as well as to their formal and informal carers.
Emphasis is placed on elderly and carer interactions, communications and care scheduling and monitoring.
The main targeted user groups are:
Older people with:
 Mild Cognitive Impairment (MCI)
Early and later stages of Dementia
Cognitive impairment and co-morbid condition
      2. Caregivers (formal and informal)
The project aims to prolong and support the independent living of seniors with cognitive impairments, through interoperable, open, personalised and seamless ICT solutions that support home activities, communication, health maintenance, travel, mobility and socialisation tasks, with novel, scalable and viable business models, based on feedback from large-scale and multi-country pilot applications.
The project's aim is approached through the following objectives: 
To connect a wide range of adaptable ICT solutions for elderly with various cognitive impairments, into a common open reference architecture, to allow their interconnection and enhance their interoperability.
To instantiate applications, services and business models to different geographical and sociocultural backgrounds, user group types (i.e. early dementia, moderate dementia, etc.), as well as lifestyles (i.e. living at home alone or with spouse, living at elderly home, traveling, etc.).
To provide tools and systems for services adaptation and personalization, to meet the different needs and wants of each individual in a dynamic way, allowing services to evolve together with the users' health and condition.
To provide tools and instruction to carers of people with cognitive impairments and/or dementia in order to support communication and functioning in daily life.
To issue key guidelines on the proper and ethical application of the proposed business models, to guarantee the respect of users' wants, lifestyle, personal data and personal beliefs.
Project website: http://www.inlife-project.eu