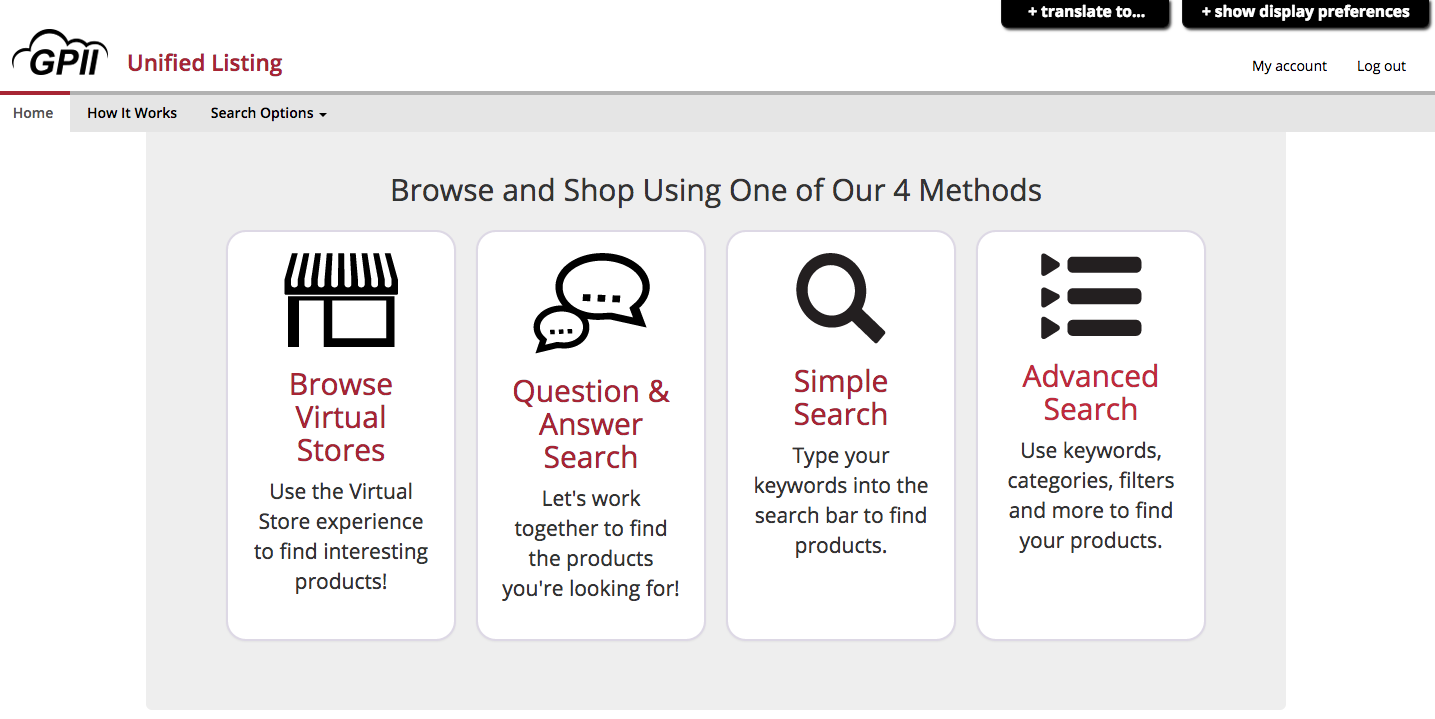 The Unified Listing is a central database that stores information about assistive technology solutions and access features in mainstream products. It brings together AT and accessible mainstream product databases internationally into a single federated database that both draws from and feeds the other databases.
The Shopping/Alerting Interface (SAI) is the first example of an alternate user interface which connects to the UL via its API. The SAI actually provides multiple different interfaces to the Unified Listing, to allow access by people with different skill levels and different preferences. The SAI is being developed by the Universal Interface and Information Technology Access Rehabilitation Engineering Research Center (UIITA-RERC) based out of the Trace R&D Center at the University of Maryland, College Park – and involving an international development team including members of both the Cloud4all and Prosperity4All projects.
What does the Unified Listing help users do?
The Unified Listing will help users in the following cases:
They want to locate existing solutions

For themselves,
to understand the field and what is available,
for market and competition research

They want to provide information about solutions:

about their products (developers/vendors)
About products (users)
Who contributes information to the Unified Listing?
The Unified Listing currently contains information pulled from database vendors like EASTIN, the EASTIN federation members, GARI and soon ABLEDATA. To continue growing and updating both the Unified Listing and its federated databases, the the Unified Listing will also enable manufacturers and community members to contribute directly.
Moreover, a bidirectional federation between EASTIN network and GPII Unified Listing will be established in such a way that the users of the GPII Unified Listing web portal can access information coming from the EASTIN databases, and users of the EASTIN Web Portal can access information coming from the GPII Unified Listing.  
Databases federated with the Unified Listing throughout the world
How can you include your solutions in the Unified Listing?
Have a product but need a way (or an additional way) to market it?
The Unified Listing also has an adjunct function called the OpenMarketplace that allows you to sell your product through the Unified Listing.    All products (whether listed in the OpenMarketplace or not)  are listed in the Unified Listing  along with where they can be purchased. For those individuals who do not have another way to market their product, or who would like an additional way to sell their product, they may also list the product in the OpenMarketplace. A link to the open marketplace is then included in the unified listing entry in the same location as links to a manufacturer's webpage for the product. This will take the viewer to a page that describes the product and provides a way to order and pay for the product. For more information contact OpenMarketplace at raisingthefloor.org.