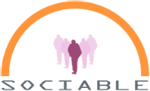 SOCIABLE introduces a radically new approach for ICT assisted cognitive training and social activation for a wide range of senior citizens including cognitive intact elderly, older adults with Mild Cognitive Impairment, as well as patients suffering from mild Alzheimer's disease. The approach relies on the deployment of a set of applications over a unique surface computing platform. SOCIABLE supports personalized cognitive training interventions designed according to medically sound principles covering all the cognitive skills. The applications support a novel approach combining the conventional human care factor with an ICT surface computing platform enabling:
Medical experts and other health professionals to manage the medical records of the elderly in a well-structured fully electronic manner.
Computer-based access to the medical records, facilitates information management and reporting at various control points within a given cognitive training programme.
Medical experts and other health professionals to design and customize cognitive training and social interaction activities to the individual needs of their patients.
Elderly to undertake cognitive training exercises and social interaction activities, in the scope of a motivating play environment empowered by the surface computing platform.
Project website: http://www.cognitivetraining.eu