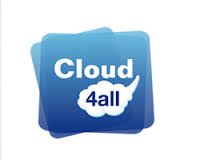 Cloud4all is an international project funded by the 7th Framework Programme of the European Union that will advance the concept of the Global Public Inclusive Infrastructure (GPII). The GPII is a project of Raising the Floor Consortium of academic, industry and non-governmental organizations and individuals. Cloud4all is an European Commission FP7 grant that will develop key parts of the GPII, building the knowledge base and algorithms needed and evaluating the ability of the concept to work across platforms, technologies and applications. Cloud4all/GPII aim at the following objectives:
Simple Instant accessibility for ALL.
Anywhere Any Device Access.
Supply and Demand better connected.
Affordable method to offer diversity needed.
From the innovation perspective, Cloud4all/GPII aims to develop a complete new paradigm in accessibility, by augmenting adaptation of individual products and services (2nd generation) with automatic personalization of any mainstream product or service a user encounters, using cloud technologies to activate and augment any natural (built-in) accessibility or installed access features the product or service has or recommending the appropriate third-party solutions, based on the user's needs and preferences.
The Cloud4all project is well underway with mainstream and AT companies already demonstrating their products being auto‐configured to user preference sets, that are retrieved from the cloud or a personal key‐token (a USB stick, or an NFC tag or ring worn on the hand, facial recognition in the home, etc.).
Project website: http://www.cloud4all.info